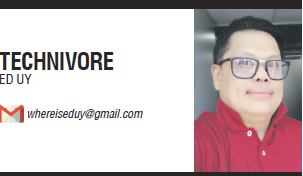 THERE are only four days left until the most festive (and expensive) time of the year. By now you are probably done with all the company parties, and looking forward to reuniting with your college buddies and the (sometimes dreaded) family reunions.
It also means that you've probably gone
through all the gifts or giveaways you've received, and the raffle prizes
you've won, and have decided which ones to keep and those ready
for…uhmm…"redistribution."
I used to feel guilty about regifting, until
that time I had to check several storage boxes full of unopened presents, and
discovered the contents were either expired or unusable. The worst was a
present which I thought contained tea (since it was in a TWG box) but, instead,
turned out to be a takeout sandwich of some sort. Yup, it was the same reason I
had to check all boxes in the first place since I couldn't figure out where the
stench was coming from.
Now, I just think of it as another way of
recycling, being eco-friendly and doing my part to save Mother Earth. But
before you go rummaging through your cabinets, and rewrap some long forgotten
shirt, gadget or accessory, know that there are certain regifting rules and
etiquette to follow to save you from embarrassment.
REGIFT OUTSIDE YOUR CIRCLE OF FRIENDS. Nothing could be more embarrassing than seeing a friend open the gift given to you by another friend. It's not just awkward, it may even be FO (Friendship Over). If you want to regift, make sure there's no way the original giver would know you gave away their gift.
ONLY REGIFT BRAND-NEW ITEMS. I know some pre-loved bags and even shoes are expensive but still, I would advise you to stay away from gifting other "used" items. Items should only be regifted if they are brand-new and still contained within the original packaging. If you've opened the package, tried it on or used it, it's best to keep it. If you really want to give it away, don't frame it as a "gift" or give it during a special occasion. Instead, let the recipient know that the item has been used and "offer" it to them with the option to pass if they don't want it.
DON'T REGIFT PERSONALIZED, HANDMADE, OR FAMILY GIFTS. Even if you have the same name as your recipient. If that gift came from someone really special or was made especially for you, it's best to keep it rather than risk hurting their feelings.
CHECK FOR SIGNS OF A REGIFT. Do not regift it in its original wrapping! Best to rewrap it and remove all signs that you were the original recipient. Check the item for a gift tag, leftover wrapping paper, tape, price tag, or if it has your name on a personalized message (like in a book).
REGIFT SOONER THAN LATER. Yes. Even if its fruitcake. This is also true when giving away gadgets or accessories like powerbanks or
charging cables. What may be great when you first received it, could be useless
by the time you are regifting it. For example, I don't think a lot of people
still have CD or DVD players, so just keep those music and movie DVDs, those
pin-type charging cables/adaptors, or other items which are already discolored
or looks quite old.
BE THOUGHTFUL WHEN REGIFTING. Don't give it away because you hate the item. It's still a gift, so make sure that the recipient will feel special and have use for it. The rule is to give an item that you would have otherwise bought in a store to give to that person.
WHEN IN DOUBT, REGIFT TO CHARITY. Stuck with something you can't use or for which you couldn't find the right recipient. Maybe it's best to give it to charity instead. You'll feel much better knowing that you'll eventually make someone happy.
The art of regifting used to be taboo for a
lot of Pinoys, but if done tactfully, carefully, and with thought, it can
work wonderfully. I don't recommend simply passing on an unwanted item to the
next victim, but if you really can't use something and know someone who would
appreciate it, regifting can be a win-win situation for the both of you.
****
FOR the second part of our gift guide, here
are some more ideas that are guaranteed to make your recipient (regifted or
not) feel special.
YEELIGHT WIRELESS CHARGING NIGHTLIGHT. I'll bet my bottom dollar that you place your smartphone near your bed and leave it plugged in overnight most of the time—and that you've been wanting a nightlight so that it's not you who goes bump in the night.  The Yeelight Wireless Charging Nightlight solves both of those inconveniences. First the Yeelight supports fast wireless charging, eliminating the trouble of having to plug in and unplug your charger. It is also designed to prevent overcharging, and features current and voltage regulation design, overvoltage protection, and foreign object identification powering off for foreign objects.  The magnetic night light, on the other hand, provides you with warm light whenever you need it, and is even detachable so you could bring it to your late-night fridge raids.
MOMAX Q POWER PRO. Another two-in-one device, the Momax Q Power Pro is a wireless battery pack and a smart dock. Available at a discounted price at Digital Walker and Beyond the Box stores, the Momax Q Power Pro is perfect whether you're at your office desk or traveling. It sports an 8000 mAh battery, USB-C and USB-A ports, and a secure and stable dock for wirelessly charging your phone. It supports up to 10w wireless charging and 18w wired charging using Qualcomm's Quick Charge 3.0 protocol. It is also designed to support wireless charging in both portrait or landscape mode so you can still browse or watch movies while you charge your phone.
BASEUS CAR KIT SET. For your car-owning friends, I found this Christmas deal from Baseus. The set includes 1) a Grain Car charger, with 1a Dual USB fast charge, hidden ambient light, intelligent control for charging; 2) mini electric Car Phone Holder with infrared induction, automatic lock and stable clamping; 3) a 1-in-3 USB made of braided high-density nylon so you can charge your iPhone, USB C and micro USB devices; and 4) a mini Volcano fragrance holder to keep the car smelling good. It even comes in a special Christmas box so you don't need to gift wrap it.
HUAWEI WATCH GT 2. Once considered a niche device within geeky tech circles, smartwatches—or wearables—have now gained widespread adoption. Wearables have evolved to function as a sort of smartphone companion that allows you to access some functions without the need
to take out your phone. Besides being an extension of your phone, it can also
be your personal assistant and sports trainer rolled into one. The Huawei Watch
GT 2 tracks your workouts with precise positioning systems and monitors your
heart rate with the accurate TruSeen 3.5. It also supports features like
Bluetooth calling, in-device Music, Message Notification, TruSleep 2.0 sleep
tracking, and TruRelax pressure monitoring. Powered by Huawei's wearable chip
Kirin A1, it can last you a couple of weeks on a single charge.
HONOR BAND 5. If you want a budget-friendly fitness tracker, the Honor Band 5 is one of the best in the market. It features a large 0.95 AMOLDED true color screen, with customizable watch faces, and incoming call and message notifications. It is equipped with TruSeen 3.0 Heart Rate Detection, with 24-hour real-time continuous heart rate monitoring, night infrared monitoring, and heart rate warnings. It is a personal trainer on your wrist with an advanced running planner for high-level fitness tracking displaying data, such as heart rate, workout time, distance, stride frequency, speed, calories, and aerobic/anaerobic results for a more in-depth workout plan. The Band 5 is water-resistant up to 50 meters and swim-proof so you can use it in the shower or track time in the pool. A six-axis sensor recognizes the four main swim strokes—freestyle, backstroke, breaststroke, and butterfly—recording speed, distance, calories, etc.
PREPAID HOME WIFI. Everyone wants to be connected this holiday season so now is the best time to get or give a PLDT Home WiFi Prepaid.  Now priced at only P1,295 (until January 15, 2020), it also comes with free 10GB worth of data good for seven days. It's a practical alternative to wired connections and, because it is prepaid, you don't have to worry about lock-in periods or additional monthly bills to your utilities. Since it is just plug and play, anyone can install it and quickly get connected to the Internet. Once you use up the free data, you can simply load from authorized PLDT and Smart retailers, nearby sari-sari stores, telco tiangge stalls, PayMaya app, and at 7-11 branches nationwide.
FamLoad packages come in every family size that are ideal for the entire family's digital activity and budget: FamLoad 199 comes with 24 GB, FamLoad 599 with 80 GB, FamLoad 999 with 130 GB, and FamLoad 1499 with a whopping 200 GB.