Think of a spy camera and you may visualize someone shuffling along in a trench coat, wide brimmed hat tipped forward over the eyes. Or perhaps you'll imagine an intrepid soul hanging out of a rickety biplane strafing the trenches during the First World War. In the past, famous spy camera brands have included the reliable Minox, used by George Lazenby in his Bond outing 'On Her Majesty's Secret Service'. However, in the digital age the choice for covert captures has broadened and innovation increased – especially since every smartphone in our pockets already has a mini camera built in.
Nowadays, you can find spy cameras built into pens, alarm clocks, wrist watches, smoke detectors, USB hubs, doorbells, spectacle frames, Bluetooth speakers, and many more ingenious innovations (including what outwardly appears to be an empty water bottle). Naturally there's also the ability to control such devices via an app and your smartphone.
Unless you actually are working for MI6, suggestions for use of such spy cameras include monitoring your children's nanny in the home – should you be well-off enough to hire one – as well as home and property security in general. Clever features such as motion detection and night vision are typically built in, too. Inevitably there is some potential crossover with heavy-duty, all-weather camouflaged trail cameras as well as action cameras and home security cameras.
These days, at least, you don't have to have the budget – or know-how – of Bond's quartermaster 'Q' to afford or use a spy camera. A quick search finds covert offerings starting from almost pocket money prices, and there are even some free spy camera software applications.
Put simply, it's a whole brave new world out there for amateur spymasters and super sleuths. So with that in mind here are some of our recommendations for the best spy cameras you can buy in 2019… and fortunately our own message won't self-destruct in five seconds, Mission Impossible-style.
1. Blink XT2
An unobtrusive camera with two-way audio built in
Video: 1920 x 1080px | Display: Via smartphone | Viewing angle: 110 degrees | Storage: Cloud storage | Power: 2 x AA lithium batteries | Size: 71 x 71 x 34mm | Weight: 89g
Full HD video capture
Weather resistant
Not invisible to oncomers
Requires app for full use
The first device in our run-down is the Blink XT2, which might be classed as a spy camera or simply a helpful home security camera device. What's interesting here is the ability to talk to intruders (or simply parcel delivery folks) using the integral two-way audio system controlled via a Blink app on your smartphone. The fact this camera is powered by two AA batteries (which will last up to two years) means it's wire-free, while it's also Alexa-compatible, letting you view live streams and arm or disarm the camera itself. Additionally, filmed clips can be stored in the cloud for up to a year with no additional service fees. Full HD video recording is provided during daylight, while at night it cleverly switches to infrared HD night vision. It's weather-resistant too.
2. Facamword Spy Camera Pen
The best spy camera for meetings
Video: 1920 x 1080px at 30fps | Display: No | Viewing angle: Not given | Storage: 16GB | Power: Charging via USB port | Size: 5.9″ long | Weight: Not given
Very discrete
Records Full HD video with sound
Easy to lose
'Only' 1 hour recording time
Here's a chance to pretend to be James Bond with this spy camera built into a pen. Yes, a pen. The Facamword Spy Camera Pen can be clipped unobtrusively onto your jacket pocket to record meetings with colleagues. Beware, however: its slimline dimensions also mean it could potentially be mislaid in the bottom of a bag or lost down the back of a chair. What it does have going for it is full HD video footage at a respectable 30fps, charging via the convenience of a USB port and yes, that diminutive size of just 5.9 inches in length. Another caveat here is that the pen's recording time is just an hour, which could be a potential pitfall if your meeting drags on… and on, as they tend to do.
3. Yaoawe Clothes Hook Camera
The best spy camera for home surveillance
Video: 1280 x 720px at 30fps | Display: No | Viewing angle: 70 degrees | Storage: Up to 16GB via optional SD card | Power: Lithium ion battery included | Size: 4.7 x 2 x 2″ | Weight: Not given
Cleverly unobtrusive
Every home should have one
Cheap plastic build
Must be de-mounted to charge
The Yaoawe Clothes Hook Camera is slightly left-field 'spy camera' that just might be a stroke of genius. Every home has a clothes hook, so why not stick a camera in there if you're looking to catch covert footage or, slightly more legally, monitor your home for security purposes? This inexpensive Far East option with a mounting bracket and pinhole lens can record up to two hours' worth of 30fps video to SD card of up to a maximum 16GB capacity. 
A card port is provided at the rear while there is an almost invisible on/off record button located above the phallic upper hook at the front. The built-in lithium ion battery is recharged via USB cable, which brings us to the only real down-side: the USB port is hidden at the rear, so to recharge it you need to remove the device from your wall, which is a pain. Look out for motion-detecting versions of this product with a slightly higher resolution, albeit for double the price.
4. Minox DCC 14.0
A palm-sized mini version of a classic camera
Resolution: 14 megapixels | Video: 640 x 480px | Display: 2″ LCD | Storage: SD card, up to 32GB | Power: Rechargeable lithium ion battery | Size: 74 x 47 x 49mm | Weight: 113.5g
Mini version of a classic model
Decent stills resolution
Still looks like a camera
Video resolution is low
The Minox DCC 14.0 is a beautiful 1:3 scaled retro camera from the granddaddy of spy cameras. While this camera doesn't disguise what it is, it's still pretty covert, because although it resembles a traditional bulky SLR, it in fact fits comfortably in the palm of your hand. Boasting first-class German engineering and optical viewfinder, the DCC 14.0 harks back to the 1950s in terms of looks, yet boasts bang-up-to-date digital cleverness in the shape of a 14 megapixel CMOS sensor, video mode, rechargeable lithium ion battery, the option to use SD cards and 4x digital zoom. If you're perusing covert documents in the dark, its accessory flash additionally may prove useful, while a teleconverter is also available for extending the lens' reach. One of the best looking spy cameras out there, for sure. There is an older 5-megapixel version of this miniature camera also available.
A bedside camera to watch over your room while you're out
Video: 1920 x 1080px at 30fps | Display: Yes | Viewing angle: 90 degrees | Storage: Up to 128GB via optional SD card | Power: Mains operation or lithium ion batteries | Size: Not given | Weight: 222g
Can operate in total darkness
Functions as a clock too
Batteries are extra
Media card is extra
There are a bunch of near-identical alarm clocks with built-in cameras from a host of 'no brand' Far East manufacturers, but the Fredi Hidden Camera Clock caught our eye thanks to its ocular frontal design. It will operate both in daytime and night-time conditions, is motion-activated, and its built-in lens provides a respectably broad 90-degree angle of view. What's more, this one isn't a total cheat, as it will actually tell you the time, day and temperature too. 
Should someone break in and ransack your drawers while you're out, notifications of such impropriety can be sent direct to your phone thanks to a compatible app. An optional SD card can be inserted for up to 128GB worth of video and photo storage. The battery provides a generous seven hours of recording time – alternatively, plug into the mains for 24/7 loop recording operation, which, unlike most alarm clocks, really will help you to sleep soundly.
A five port USB charging station… with a spy camera built in
Video: 1920 x 1080px, 30fps | Display: No | Viewing angle: 90 degrees | Storage: Up to 128GB via optional SD card | Power: Lithium ion battery included | Size: 4.9 x 4.2 x 2.8″ | Weight: 259g
Practical all-in-one solution
Charging 5 different devices
Not a portable solution
Whether you view the Yaoawe Hidden Camera USB charger as a spy camera that happens to also offer a comprehensive charging hub with five available ports for charging five devices, or vice versa, this Wi-Fi enabled solution is certainly a practical option. As well as being able to covertly capture video with sound straight to optional SD card, with the bonus of a relatively wide viewing angle, it also has a built-in motion detector that will sneak a picture of any uninvited guests or snooping spies and alert your smartphone instantly. This spy camera isn't just for catching burglars or unfaithful partners in the act: the manufacturer suggests the desktop device could also be used as a baby- or even pet monitor.
7. Sonew Wi-Fi Light Blub Camera
A spy camera hidden within a humble light bulb
Video: 1920 x 1080px, 25fps | Display: No | Viewing angle: 360 degrees | Storage: Up to 128GB via optional card | Power: Via mains | Size: Not given | Weight: 200g
Small and unobtrusive
Practical solution
Tricky 360-degree viewing angle
Plastic-y build
Perhaps the best spy camera innovation on our list is the Sonew Wi-Fi Light Blub Camera. Fitting a lightbulb with a camera possessing a 360-degree field of view may seem like a bright idea to some and a screwy one to others; but a bulb is surely one of the last places you'd expect to find a hidden camera that can record at up to 25fps, which is the case here. There is also a motion detector built in, which will transmit a notification to your phone if, says its manufacturer, an 'abnormal situation' occurs in your home. As well as the all-encompassing viewing angle, the camera bulb also features a two-way audio function, so users can remonstrate safely from afar with any possible home invader – and hopefully scare them off before major damage is done.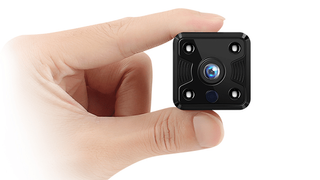 The size of an after dinner mint, this wins the prize for the most compact spy camera
Video: 1920 x 1080px | Display: No | Viewing angle: 140 degrees | Storage: Up to 128GB via optional microSD card | Power: USB charging | Size: 4.5 x 4.5 x 2.5cm | Weight: 81.6g
Can record on a constant loop
Sends images to users' phones
So small you might lose it
Battery life is just 3-4 hours
The Fredi Mini Hidden Camera may be the size of an after dinner mint or a cheese cracker, but unlike both of those it is clever enough to detect motion, shoot 1080P video, capture images to an optional microSD card or record on a constant loop, and even 'see' in the dark. Like many of its ilk, there is the ability to set up an alarm notification to your smartphone, whereby this hidden camera will send images to your email address, so you can monitor how the nanny is getting along with the kids, or how the dog you've left home alone is bearing up. That's not all though, as this miniature wonder features six infrared LEDs and a night vision distance of five metres, so you can leave it monitoring proceedings while you sleep, if desired.
9. Bear Grylls Waterproof Action Camera Glasses
The best wearable spy camera, endorsed by TV's Mr Adventure
Video: 1920 x 1080px at 30fps | Display: No | Viewing angle: Not given | Storage: Not given | Power: Lithium batteries (included) | Size: Not given | Weight: 59g
Lightweight device
Hands-free recording
Pricier than 'no brand' options
Wear it all the time you're recording
We couldn't do a round up of 'spy' cameras without featuring at least one option that features a lens secreted within a pair of glasses. While there are a lot of pocket money options from brands we've never heard of available online, the look tends to be more Austin Powers than Tom Cruise. The Bear Grylls Waterproof Action Camera Glasses sport a specification list that sits head-and-shoulders above the rest, albeit with a price three times that of some 'no brand' alternatives. The bonus here is an eyeline point-of-view perspective when recording hands-free full HD video, and because it's as much an action camera as anything else, we get waterproofing and dustproofing alongside promised 100% UVA protection. An accessory kit including a safely strap with float is helpfully included, for anything your 'missions' might throw at you.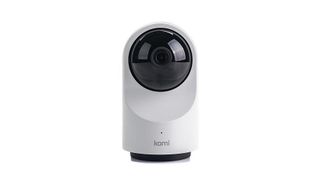 10. Kami Indoor Camera
The best value spy camera, with a motorised base for movement tracking
Video: 1920 x 1080px at 30fps | Display: No | Viewing angle: 110 degrees | Storage: Not given | Power: Via USB | Size: Not given | Weight: Not given
Rotating camera
Competitively priced option
Not hugely well 'hidden'
Expanded storage via subscription
Resembling a mini droid from Star Wars, what the Kami Indoor Camera lacks in stealth it makes up for in value for money and usability. The chief appeal here is an unobtrusive desktop or bedside surveillance or security unit with a rotating camera that provides 360-degree coverage, with decent video quality and an attractive looking design. It does, however, resemble what it is (a camera), which may be a no-no for fledgling super-spies. Power is provided via a micro USB port near the base, and we were won over by the fact that the camera's base is also motorised, enabling it to pivot and track any movement it detects. As with most things these days the camera is controllable and set up via a smartphone app, with user-selectable settings to governing behaviour. There are some down-sides here: the camera itself only stores very short six-second clips for up to one week, and additional storage comes via a subscription service that costs extra.
More security and surveillance guides:
• The best home security cameras
• The best video doorbells
• Best dash cam 
• The best body cameras
• The best night vision goggles and binoculars
• The best trail cameras for wildlife photography and nature watching